Who We Are
SFWA is an organization for published authors and industry professionals in the fields of science fiction, fantasy, and related genres. Founded in 1965, SFWA informs, supports, promotes, defends, and advocates for its members. We host the prestigious Nebula Awards at our annual SFWA Nebula Conference, assist members in legal disputes with publishers, offer the Speakers Bureau, administer grants to SFF community organizations and members facing medical or legal expenses.
Novice authors benefit from our Information Center and well-known Writer Beware site.  Between online discussion boards, private convention suites, and a host of less formal gatherings, SFWA is a source of information, education, support, and fellowship for its members.
SFWA Membership is open to authors, artists, editors, and other industry professionals who meet our eligibility requirements.
History and Statistics
Science Fiction and Fantasy Writers of America, Inc. was founded in 1965 by the American science fiction author Damon Knight and was originally named Science Fiction Writers of America. At that time, the distinction between science fiction and fantasy was less important and SFWA's name was accepted as encompassing both.
Later, the name of the organization was changed to Science Fiction and Fantasy Writers of America, although the acronym SFWA was not changed. The acronym may be pronounced as either 'SEFwa' or 'SIFwa'.
Today, SFWA is home to over 1900 authors, artists, and allied professionals, and is widely recognized as one of the most effective non-profit writers' organizations in existence. Each year the organization presents the prestigious Nebula Awards® for the year's best literary and dramatic works of speculative fiction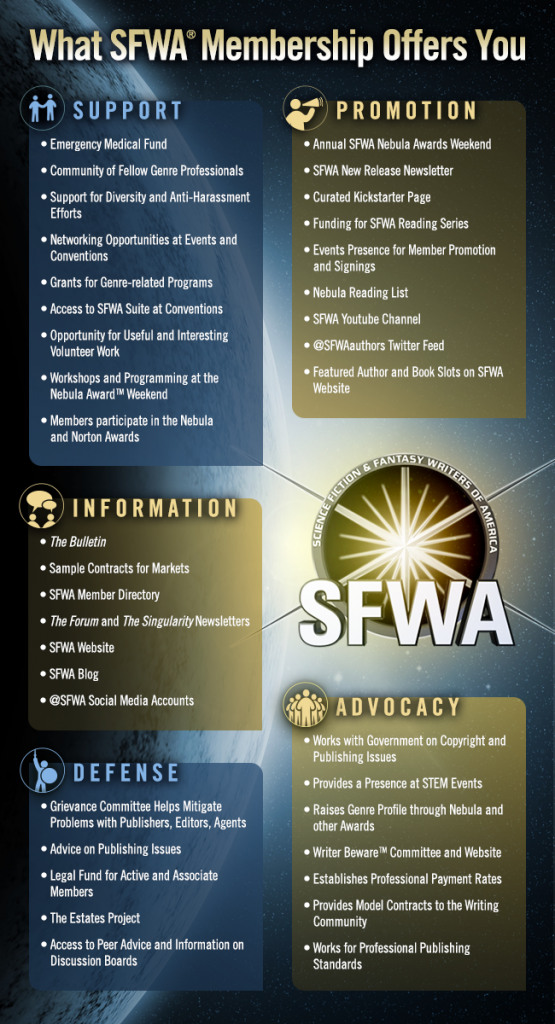 .